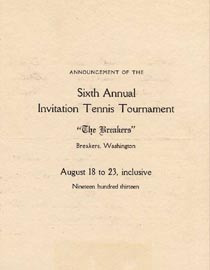 1901  The Northwest tennis tournament circuit started which included the Oregon State Tournament.
1904 North Pacific international Lawn Tennis Association formally organized, with Multnomah Amateur Athletic Club a charter member.
1905 Four asphalt courts constructed on Multnomah Field.
1905 Irvington Improvement Association formed to buy property and construct clubhouse and six clay courts for the Irvington Tennis Club.
1908 The Oregon State Championship featured the first visit of Hazel Hotchkiss from Berkeley, CA (National Ladies' Singles champion in 1909, 1910, and 1911, and donor of the Wightman Cup).
1908 First annual Breakers Tournament at The Breakers Hotel, near Long Beach, WA. See picture of tournament brochure.
1909 Formal incorporation of the Irvington Club to acquire title to property.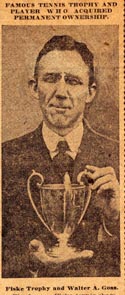 1910 Irvington Club hosts Oregon State Championship for first time.
1910 Starr-Reynolds-Starr inter-Club Challenge Trophy presented for competition among clubs in the NPILTA.
1910 F.H.V. Andrews becomes President of the North Pacific International Lawn Tennis Association.
1910 First Portland Public parks courts constructed.
1912 Opening of new MAAC Clubhouse on Salmon Street.
1912 The Oregon State Championship featured visit of William M. Johnston of San Francisco, (national Men's Singles champion in 1915 and 1919).
1912 Construction of two-story addition to the Irvington Club.
1913 First Portland City Championship held at the Irvington Club.
1918 Walter A. Goss wins the Oregon State men's Singles Championship for 3rd time, and retires the Fisk Trophy. See picture
1920 Exhibition match by U.S. Davis Cup Team at Portland Livestock Pavilion. The team included: William T. Tilden, William M. Johnston, R.N. Williams, and Watson Washburn.
| | |
| --- | --- |
| Prominent Men | Prominent Women |
| F.H.V. Andrews | Mrs. E.A. Bladwin |
| Dan S. Belinger | Irene Campbell |
| Lt. Walter A. Bethel | Miss Lillie Carstens |
| F.F. Ewing | Mrs. W.M. Cook |
| Ralph Gorrill | Stella Fording |
| Walter Goss | Lilly Fox |
| Henry S. Gray | Stella Frohman |
| Carl D. Lewis | Amy Heitshu |
| J.H. Mackie | Rachel Josephi |
| Rogers MacVeagh | Lessie Ledbetter |
| A.B. McAlpin | Mrs. J.P. Mulder |
| Jacie Neer | Mrs. W.I. Northrup |
| Phil Neer | Nan Robertson |
| A.D. Norris | Mrs. Harland Wentworth |
| L.K. Richardson | |
| Joe Smith | |
| Henry Stevens | |
| A.D. Wakeman | |
| Brandt Wickersham | |
| Simeon Winch | |
| Catlin Wolfard | |