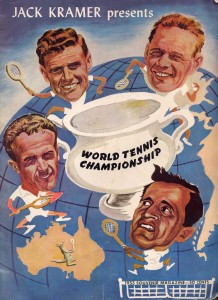 1946 Irvington Club clay courts resurfaced with blacktop.
1947 Portland Indoor Tennis Club established at the Portland Armory
1948 Portland Indoor Tennis Club first professional exhibition, featuring Kramer, Riggs, Segura and Pails
1948 Multnomah Athletic Club's first annual invitational doubles tournament, won by Claude Hockley and Sam Lee.
1949  USTA/PNW started ranking senior players (35 & 45 categories).
1951 Oregon Indoor Tennis Club established in one indoor court built at the Catlin Gabel School.
1953 Tennis exhibition at Oregon State University in Corvallis featuring Jack Kramer, Pancho Segura, Frank Sedgeman and Ken McGregor.
1956 Multnomah Club Stadium courts are moved to make room for Portland Beaver baseball.
1956 June Lee and Patty Miller win the Canadian National Womens Doubles Championship.
1957 Irvington Club's first reconstruction phase, constructing new swimming pool to replace one tennis court.
1958 Umpqua Valley Tennis Tournament started.
| | |
| --- | --- |
| Prominent Men | Prominent Women |
| Bill Babson | Joan Campf |
| Jim Brink | Florabel Clough |
| Leonard Clark | Virginia Cook |
| Bill Davis | Gertrude Easton |
| Harry Doyle | Joan Egbers |
| Spencer Ehrman | Reona Flynn |
| Hugh Findlay | Patsy Heard |
| Art Fish | Lorraine Holiday |
| Jim Flynn | June Lee |
| Claude Hockley | Barbara Lum |
| Jim Hodgkins | Clara Meyers |
| Ross Hughes | Patty Miller |
| Jim Jackson | Betty Parker |
| Robert Johnson | Doris Popple |
| Ned Jungck | Lavelle Ransom |
| Sam Lee | Lorraine Rhodes |
| Darrell Kelly | Mirja Rose |
| Clint Knox | Rose Schleifer |
| Clyde Knox | Wili Tanner |
| Don Lewis | Mary Taylor |
| Bob Lloyd | Ann Thatcher |
| Tom MacDonald | Esther Vetterlein |
| Hugh McGinnis | |
| Monte Meyers | |
| Emery Neale | |
| Jack Neer | |
| Chuck O'Neill | |
| Walter Palaske | |
| Irving Parker | |
| Jack Rhine | |
| Vic Ramis | |
| Bill Rose | |
| MacNeil Smith | |
| Dudley Starr | |
| Don Tisdel | |
| Ed Wofford | |