1981 Peugeot Tennis Invitational conducted at the Memorial Coliseum featuring Jimmy Connors and Ille Nastase. Attendance exceeded 7,000. Gordon Jorgenson, U.S. Davis Cup committee chairperson was in attendance.
1981 First USA-Australia Davis Cup match in Memorial Coliseum. The 36,000 paid attendees set an American Davis Cup attendance record.
1982 3rd Peugeot Tennis Invitational featuring Lendl and Tanner. Lendl's first American exhibition. 8,200 were in attendance. The exhibition helped fund Oregon Junior Development for kids to travel.
1983 4th Peugeot Tennis Invitational featuring Connors and Gerulaitis. Attendance 8,600.
1983 Multnomah Athletic Club constructs garage including 3 indoor tennis courts.
1984 Second USA-Australia Davis Cup match in Memorial Coliseum. Connors/McEnroe vs. Cash/Australia. U.S.A. won 4-1.
1985 Emery Neale is first tennis player inducted into the Oregon Sports Hall of Fame (see picture at right).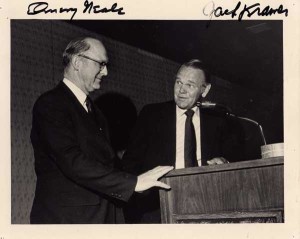 1985 L-P Challenge Series featuring Becker vs Noah at the Chiles Center in front of a Sellout crowd of 5,500.
1988 NIKE INTERNATIONAL at the Memorial Coliseum featuring McEnroe, Agassi, and Monica Seles vs. USSR Volkov, Zereva and Chesnakov on Mr Van Auken's Electronic Line Calling court with no linesman. Monica was 13 years old and Andre was 17.
1988 The Portland Panthers, a Domino's TeamTennis franchise, make their appearance in Portland for a 2 year stint. Panthers finish 1988 season with a 6-8 record and average attendance estimated at 1,100 for home matches. Home matches were played at the Tualatin Hills Tennis Center.
1990 The Oregon Tennis Historical Committee was initiated by the Irvington Club with charter members: Steve Hall, Sam Lee, Emery Neale and Mabel Balkovitch.
1992  JC Penny/Nike Tennis Invitational conducted at the Portland Memorial Coliseum featuring John McEnroe, Jonathan Stark, Patrick McEnroe and Brian Joelson.
1993 Eugene Swim and Racquet Club constructs new addition including 2 indoor courts.
1994 Jonathan Stark wins the French Open Doubles championship. Jonathan is ranked #1 in the world in doubles, ranked #36 in singles, played on the U.S. Davis Cup team which he participated on 3 additional times.
1995 Jonathan Stark Wins the Wimbledon Mixed Doubles championships with Martina Navratilova.
1995 Hedy and Tasha Jackson win the USTA Mother & Daughter Indoor Championships for the 3rd year out of 4.
2000  The USTA/PNW Hall of Fame was initiated.
2003 Superset tennis came to the Rose Garden featuring: Andre Agassi, Taylor Dent, Robbie Ginepri, Jan-Michael Gambil and James Blake.
2007 The Davis Cup Final between the U.S. and Russia is held in Portland at Memorial Coliseum. A sold-out crowd watches the U.S. team win its first Davis Cup in 12 years with a 4-1 victory.
2009 Brian & Brett Joelson win the USTA National Father & Son Hard Court Championships for an unprecedented 7th time in 8 years. During the off year which was 2008, Brian and his daughter Ashley won the USTA Father & Daughter Hard Court Championships.
2009 Travis Parrott, former U of Portland No. 1 player and partner Carly Gullickson win the U.S. Open Mixed Doubles title. Parrott is the 1st Oregonian to win a US Open open championship.
Document Source:  Sam Lee, 2002/Historical Committee 2004 draft