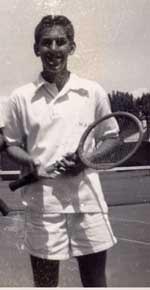 Played on the University of Portland Tennis team 1955-1957. Compiled a singles record of 60-3.
Coached the University of Portland Team 1964-1969. Had a record of 55-50-1.
Oregon State Men's Singles champion 1957, 1960.
Oregon State Men's Doubles champion 1960 with Jack Neer.
Portland City Doubles champion 1956, 1959, 1964 with Jack Neer, 1958 with Clyde Knox.
Currently a tennis pro in Palm Springs, California.
Document Source: Historical Committee, 2004