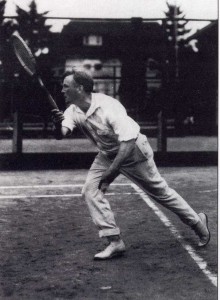 Pacific Northwest International doubles champion in 1910 and 1911 with Ralph C. Gorrill. Ranked number 1 in the Northwest.
Oregon State singles champion in 1909 over W.A. Bethel.
Oregon State singles runner-up 4 times between 1902 and 1918.
Oregon State doubles runner-up 5 times between 1905 and 1910.
Portland City singles champion in 1915 over Walter Goss.
Portland City doubles champion in 1915 with A.D. Norris over Wakeman and Edgar.
The Wickersham family lived in the block at NW 18th and Glisan where there is now the Wickersham Apartments. Brandt Wickersham said his family had one of Portland's first tennis courts there.
Framed picture of Brandt on display at the Irvington Club and the Multnomah Athletic Club.
Document Source: Sam Lee, 1995