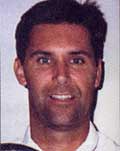 Wins the state high school boys singles tennis championship for the second year in a row in 1979 while at Aloha high school.
Attended Texas A & M. on full scholarship – received all SE conference honors.
Played on the professional tennis circuit for several years directly out of college. Played in several grand slam tournaments.
Ranked number 1 in men's open singles in the Northwest 7 times between 1985 and 1999.
Wins the USTA Father & Son Hard Court Championships in 2008 for the 6th straight year with his son Brett Joelson.
His daughter Ashley is currently playing on the U.C.L.A. girls tennis team.
Brian is currently a part time tennis professional at the Charbonneau Tennis Club in Wilsonville Oregon.
Honors
Member of the USTA/PNW Hall of Fame
Relevant article
At age 12 he chose tennis -and now Hall of Fame chooses Brian Joelson, Portland Tribune (Kerry Eggers), 10/2008
Document Source: Historical Committee, 2008