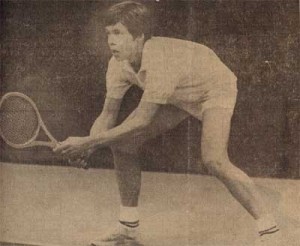 I was going to be Luis Aparicio II, a smooth fielding shortstop for the Chicago White Sox. I took tennis lessons begrudgingly not to disappoint Dad, who loved tennis and had been a founding member of the US Tennis Writers Association.
 It was not until I was the last one cut from my high school freshman basketball team that I started to consider it seriously. Tried out and made varsity and was ninth man, but lettered as a Freshman and was one of two four-year lettermen in my class of '65.
Played my first sanctioned USLTA tournament the summer of my junior year at 16 years old. Won the fourth tournament I played which was the 16 and Under National Public Parks Championship of 1964.
Received scholarship offers, one of which was Seattle University.
Played #3 as a freshman behind Tom Gorman and Steve Hopps and our team finished the year with a NCAA ranking of 20th.
Played #2 behind Tom Gorman as a sophomore and junior and our team finished #14 in '67 and #8 in '68 in the NCAA. We won the Independent College National Championships in Ojai, California.
Played #1 and was Captain as senior at Seattle University. (Foggy recollection on our national ranking!…not good without Tom!) But we had good team with Warren Farmer and the Gertsmar brothers from Yakima.
Proud to say I was ranked 14 years in a row in the PNW from 1967 to 1980, never lower than #8 and I believe four times #3 in singles.
In doubles was ranked #1 seven times in 14 years with five different partners.
Won Washington State Doubles with Sherwood Stewart, Oregon State Doubles (twice), and Florida State Doubles in 1970 over Frank Froehling and partner.
Played World Team Tennis for Sea-Port Cascade in 1977.
Played US Open qualifying one year, final year on grass, 1973 and reached the third round. Served for the match at 5-4 in the second 30-30 to get into the Open, got broken and lost one break in the third. I expect to get over this approximately by 2073.
First President of the USPTA Teaching Professional organization in PNW.
Assisted in establishing numerous charitable exhibitions such as Cystic Fibrosis, Boys Scouts, American Cancer Society, Heart Association and others.
As Tournament Director/Promoter
Pacific Coast Indoor as Co-Tournament Director with Emery Neale starting in 1971. Was Tournament Director from '71 through '86 with exception of '76 and '77 when it was run by Jack Neer.
Oregon State '71 through '75.
American Express Satellite event at Mt. Park
First ever AVON FUTURES which was won by Tracy Austin in January of '77.
Organized Charity Event with Bill Cosby, Tracy Austin locally televised for Hearts and Families. Played Tracy Austin one week after she won her first US Open in 1979.
Peugeot Tennis Invitational Exhibitions with Jimmy Connors, Illie Nastase, Ivan Lendl and Vitas Gerulaitis 1980, '81, '82 and '83.
USA vs Australia Davis Cup Semifinals in 1981 and 1984…featuring McEnroe, Connors, Fleming, McNamara, McNamee, Phil Dent and Pat Cash.
NIKE INTERNATIONALS in 1987 and '88 featuring McEnroe, Fleming, Wilander, Pernfors, Andre Agassi, Monica Seles and Andre Chesnokov.
J.C. Penny/NIKE Invitational Exhibitions with Jonathan Stark vs Jimmy Connors in February 1992 and John McEnroe in September 1992.
Co-Tournament Director with Stephen Duval of 2003 Superset Tennis event at the Rose Garden featuring Agassi, Blake, Gambill, Martin, Spadea, Dent and Miryni
Pitched the PNW on the idea of hiring its first full-time Executive Director at the annual meeting in Vancouver, British Columbia (Jericho)…and the PNW became the final USTA section to get an office.
The 'over-qualified' candidate I proposed was Harold F. Parrott!
Editor's note: 10/2004
Brian is currently living in Georgia. He is director of the tennis division of Leader Enterprises. His son Travis is currently world ranked in doubles.
Document Source: Brian Parrott, 2004