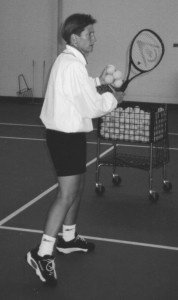 Wins Oregon State high school singles championships in 1969 and 1970 while playing for Grant high school.
Finalist in Portland city women's singles tournament in 1972.
Finalist in Portland city women's doubles tournament in 1970 and 1972.
Ranked 1st in the Pacific Northwest in singles and doubles in 1975 playing with Hedy Jackson.
Won the Oregon State women doubles championship in 1978 with Michelle Carey.
Wins the USTA National 35 and over doubles tournaments in 1987 and 1988 with Nancy Osbourne. Those years they were ranked number two in the country. In 1989 Carolyn was ranked number four in singles in the 35's.
Was tennis director and head pro at the Irvington Club during the eighties and nineties.
Carolyn is currently serving as a tennis pro in Palm Spring California.
Document Source: Committee, 2004