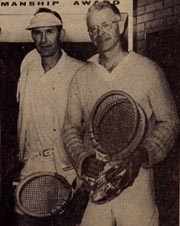 The Oregon Tennis Historical Committee was founded in 1990 by the board of directors of the Irvington Club. The charter members were Steve Hall (chairperson), Sam Lee, Emery Neale and Mabel Balkovich. At the time, there was no organization in existence who was attempting to preserve the rich history of tennis in the state of Oregon. As older tennis players were passing on, their scrapbooks and memorabilia were passing with them. When material was donated, there was no location where the material could be safely kept.
Our early business was the installation of a fireproof safe where irreplaceable material could be stored. We also obtained a locked closet at the Irvington Club where the safe and other material could be stored. We next made an announcement to the tennis community about our committee and solicited people to donate material which had historical significance. As this material flowed in, we filed it in our tennis archive and indexed it.
Our next major effort was to perform research and develop profiles and lists of entities having historical significance. These entities include: organizations, tournaments, players, trophies, tournament winners, etc. Most of this research was performed by Sam Lee who devoted countless hours on this effort. An example, no record was available of winners of the City of Portland Tennis Championships. Sam went to the Oregonian and reviewed Microfiche of sports pages all the way back to 1920 and prepared a complete list of Men's and Women's winners. This website is making visible the fruits of Sam's labor.
We continue to collect and index material and perform research. If you have tennis material that you would like to donate to us, or if you would like to physically view or obtain copies of any of our material, please contact us. In addition to the material in this website, we also have: scrapbooks, newspaper articles, trophies, business documents, tennis magazines and books.
A tennis library is planned for construction at the Irvington Club where much the material can be on display at all times.
We wish to thank the Irvington Club for their support in providing funding for our committee and for making this web site possible.
Charter
The Oregon Tennis Historical Committee is an agent of the Irvington Club to collect, prepare and preserve information concerning the history of tennis in the state of Oregon and the Irvington Club.
Current Committee Members
Steve Hall (chair)
Mike Stone
Bob Howard
Wayne Pickard
Barbara Farmer
Brian Parrott
Mike Tammen