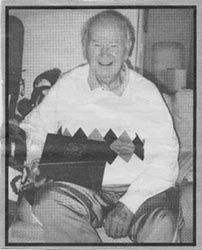 The oldest international team tennis tournament in the United States.
Beginning in 1958 to 1966, Washington and British Columbia senior men's tennis 45 and over, played Senior men's tennis annual for the Denny Cardinall trophy.
The trophy was donated to the tournament by Victor Denny past president of the United States Tennis Association for 1958-1959, and for 13 years was president of the Pacific Northwest Tennis Association and E.J.H. Cardinall, past secretary-treasurer of the Pacific Northwest section, 1924-1963.
During the first 9 years, Washington held the trophy for 5 years and British Columbia for 4 years.  In 1967, Oregon was invited to join the festivities.
The format has changed a number of times. Originally, the matches were on a home/away basis, for six confrontations a year. The day long affair produced great competition. The evenings were famous for great comraderie and sometimes ribald presentations as part of sumptuous banquets.
Typical of the original rivalry:
Five singles: 45's
Four doubles: 45's
One singles: 55's
Three doubles: 55's
One singles: 60's
British Columbia
Vancouver Lawn Tennis Club (grass, carpet, hard surface)
Jerico (hartru)
Hollyburn (hard)
Western Club (hard)
Washington
Seattle Tennis Club
Galleria
Mercer island (bubble)
Boeing Hangar (rubber)
Oregon
Irvington Club
Multnomah Athletic Club
As time ticked away, the players aged and as a result, 65's were added and finally now, we are playing 80's. A few years ago, the players lobbied for 85's, and a few matches were played, but the 85's are not playing as of now.
After 25 years, the home and away format became a scheduling problem. It was solved by one tourney a year, alternating sites, Oregon, Washington, British Columbia. A tourney is now 2 days, featuring 48 matches, all doubles, 45's to 80's. Each team to play four matches in each division.
As 2003 has drawn to a close, The standings record of these three units, traveling up and down the Pacific ocean is as follows:
Oregon: 22
B.C.: 15
Washington: 15
Three ties, and in 2001, an unprecedented three-way tie. 16-16-16
This international series is noted for bringing together the top senior players in the Northwest. over the years, many nationally ranked senior players of the United States and Canada have been part of the competition.
Friendships have been internationally cemented in every Denny Cardinall meeting. Two days of tennis complete with a Saturday night banquets are too good to miss. Quoting from the Pacific Northwest Tennis Times in 1988, "The B.C. masters are to be complimented for staging the event magnificently. Both the tennis and the banquet Saturday night were attended by over 150 guests. All agreed that the ice sculpture of the trophy cup was spectacular."
Long Live the "Star Spangled Banner" and "O Canada."
Document Source: Gordon Ballantyne (2004) & Warren Oliver (2008)
Winners of the competition
1958 Washington
1959 Tie B.C., Washington
1960 Washington
1961 Washington
1962 B.C.
1963 B.C.
1964 Washington
1965 Washington
1966 B.C.
1967 Oregon
1968 Oregon
1969 Oregon
1970 Washington
1971 Oregon
1972 Oregon
1973 B.C.
1974 B.C.
1975 Oregon
1976 Tie B.C., Oregon
1977 Oregon
1978 Oregon
1979 Oregon
1980 Tie Oregon, Washington
1981 Oregon
1982 Oregon
1983 Oregon
1984 Oregon
1985 B.C.
1986 Washington
1987 B.C.
1988 Oregon
1989 B.C.
1990 B.C.
1991 Oregon
1992 B.C.
1993 B.C.
1994 Oregon
1995 Washington
1996 Oregon
1997 B.C.
1998 Washington
1999 Washington
2000 Washington
2001 Tie 3 way
2002 Oregon
2003 B.C.
2004 Washington
2005 Oregon
2006 Oregon
2007 Washington
2008 Oregon
2009 B.C.
2010 Washington
2011 Washington
2012 B.C.
2013 Oregon
2014 Washington