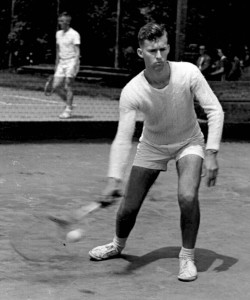 "Mr Oregon Tennis" grew up in the Irvington neighborhood in Portland and won the Oregon State High School singles championships four years straight for Grant High School.
Emery won the Oregon State singles titles in 1941, 1946-47, 1949-52 and 1955
He took custody of the doubles titles 10 times – 6 of them with partner Sam Lee.
In 1969, Emery received the #1 national ranking in the Men's 45, winning a total of 16 national titles, including a three-peat of the National Senior Hardcourt Singles.
Emery understood the importance of grassroots' programming and promotion of tennis. He was instrumental in bringing the Pacific Coast Indoor Tournament to Portland and in the 1950's he organized the first city wide tennis clinics for area youth.
Emery served on the Irvington Club Board of Directors in the late 1950's and again in the late 60's.
Honors
Charter member of the USTA/PNW Hall of Fame
Member of the Oregon Sports Hall of Fame
Honorary member of the Irvington Club
Framed pictures of Emery on display at the Irvington Club, the Multnomah Athletic Club and the Oregon Sports Hall of Fame
Document Source: USPTA/PNW Hall of Fame Committee October, 2000