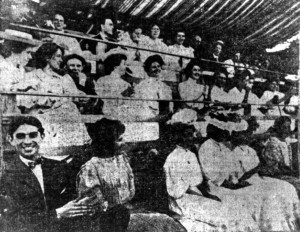 The Irvington Tennis Club was established in 1898 with a small clubhouse and two courts on property owned by C.H. Prescott in Northeast Portland in the block bordered by Tillamook and Hancock between 19th and 21st.
In 1905, the Irvington Improvement Association was formed, and it raised $10,000 to purchase the entire block between NE 21st and 22nd and Thompson and Brazee.
Six clay courts were constructed, and at the south end of the property a clubhouse was built and completed in 1905. In 1912, a two story addition to the clubhouse was built, to increase the Club's social functions.
The north end of the property was a small park that included a cement tennis court, handball court and sandpile. The Club contracted with the City of Portland to manage the park.
For several years, the Irvington Improvement Association leased the property to the Irvington Tennis Club. The title was transferred to the Irvington Club in 1909.
When the depression came in 1929, the Club almost foundered. To discharge its financial obligations, the Club sold the north end of the property in 1937.
For a number of years, starting in 1914, the Irvington Tennis Club was involved in an annual Irvington Children's parade. See picture.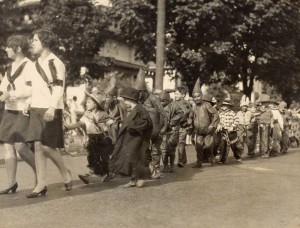 World War II was another difficult period for the club. To eliminate the cost of daily care on the clay courts, the courts were paved in 1946.
To increase neighborhood participation and club membership, in 1957 the decision was made to convert one of the courts into a swimming pool and bath house.
To satisfy increasing interest to play tennis year round, in 1965 a new clubhouse was added and two courts were covered, and four years later two additional courts were covered.
In 1990, the Club initiated a major rebuilding program that included replacing the swimming pool and remodelling and repairing the old clubhouse.
Today, some 290 families enjoy year-round tennis, swimming and various social activities.
Related Book
The Club That Roared (can be purchased at the IC office)
Related Articles
Oregon Historical Society Bulletin – Helen Bledsoe
Irvington's New Tennis Club – Oregonian, 1905
Irvington To Have A Clubhouse – Oregonian, 1905
Irvington Courts Formally Opened – Oregon Journal, 1905
Irvington Young Women Suffer From Eligible Man Famine – Oregonian, 1906
Tennis as Played at the Irvington Club, USTA/PNW Official Guide, 1913
New Pro At Irvington Club Tells Of Some Advantages Gained From Sport – Oregonian, 1930
Irvington Tennis Club Jells Jubilee Event – Oregonian, 1973
The Irvington Club: Still Serving Well – This Week Newspaper, 1986 (Karl Klooster)
Irvington Club To Renovate Historic Ballroom – Eastbank Focus, 1990 (E.J. Flannery)
Tennis Club Gets Historic Status – Eastbank Focus, 1990
 Document Source: Sam Lee, 1995