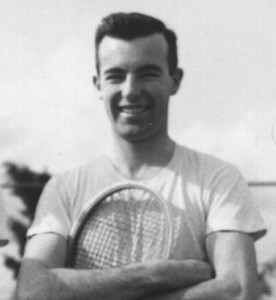 Oregon State High School Singles champion 1950 – Central Catholic High School.
Oregon State High School Doubles champion with Mike Walsh 1949.
Member of University of Portland Tennis team 1952-1955, Singles 67-3, Doubles 68-2.
Oregon State Doubles runner-up with Hugh Findlay to Sam Lee & Emery Neale in 1955.
Portland City Doubles Champion – 1954, 1955, 1963.
Portland Tennis Center Association Executive Secretary from 1970 – 1981.
First Tennis Director, Portland Bureau of Parks, served from 1981 – 1998.
Tournament Director for Oregon High School 4A Boys Tennis championships from 1971 to 1997.
Tournament Director for various sanctioned junior events in Portland from 1975 – 1985.
In 1984, brought USTA Schools Program to Portland, working with USTA clinicians and local Physical Education leaders.
Honors
Portland Parks Olmsted Award, 1983
National Community Services Award by USTA, 1984
Oregonian Banquet of Champions Merit Award, 1990
National Excellence in Programming Award by USTA, 1997
Greater Portland Tennis Council Community Service Award, 1991
Member of the University of Portland Athletic Hall of Fame, 1994
USTA/PNW NJTL Chapter of the year, 1996
Member of the Central Catholic High School Athletic Hall of Fame, 1996
Related Article
Portland's "Mr Tennis" Has Served City Well (Jim Flynn), Oregonian, Laura Gunderson, 1/15/1998
Document Source: Sam Lee, 1995 & Historical Committee, 2003