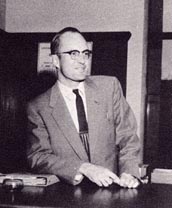 Tennis became a minor sport in 1920 with Bennet T. Sims as the first varsity tennis coach.
The records of some of the early teams are:
1922: 6-1
1923: 5-1
1924: 3-2
1925: 3-3
The 1937 team won the Northern Division Championship. Claude Hockley won the singles title and teamed with John Gallagher to win the doubles championship.  In 1938, Bill McKalip became coach.
Bill was followed by Irwin Harris who coached for 20 seasons, retiring after the 1964 season.  He compiled a record of 154 victories in 207 matches and his teams posted a 30 – 7 mark against top rival Oregon. See picture
Don Megale, one of Harris's former players, took over in 1965 and coached for 5 year seasons and was followed by Paul Valenti who held the position until tennis was eliminated from the athletic program in 1976 because of budget problems and the poor condition of the courts with no funds to repair them.
Document Source:  Irwin Harris, November 2001
Prominent Players
Gordon Bryneldson
John Gallagher
Claude Hockley
Jim Jackson
Jim Kuenzli
Roger McKee
Don Megale
Norm Merrill
Wayne Pickard
Jerry Syderhoud