The first Oregon State Tennis Championships were played in 1899 on courts at the Multnomah Club field (now Multnomah Stadium). Events included men's singles and doubles. The tournament was sponsored by the Irvington Club. The first winner was Lt. W.A. Bethel, U.S. Army.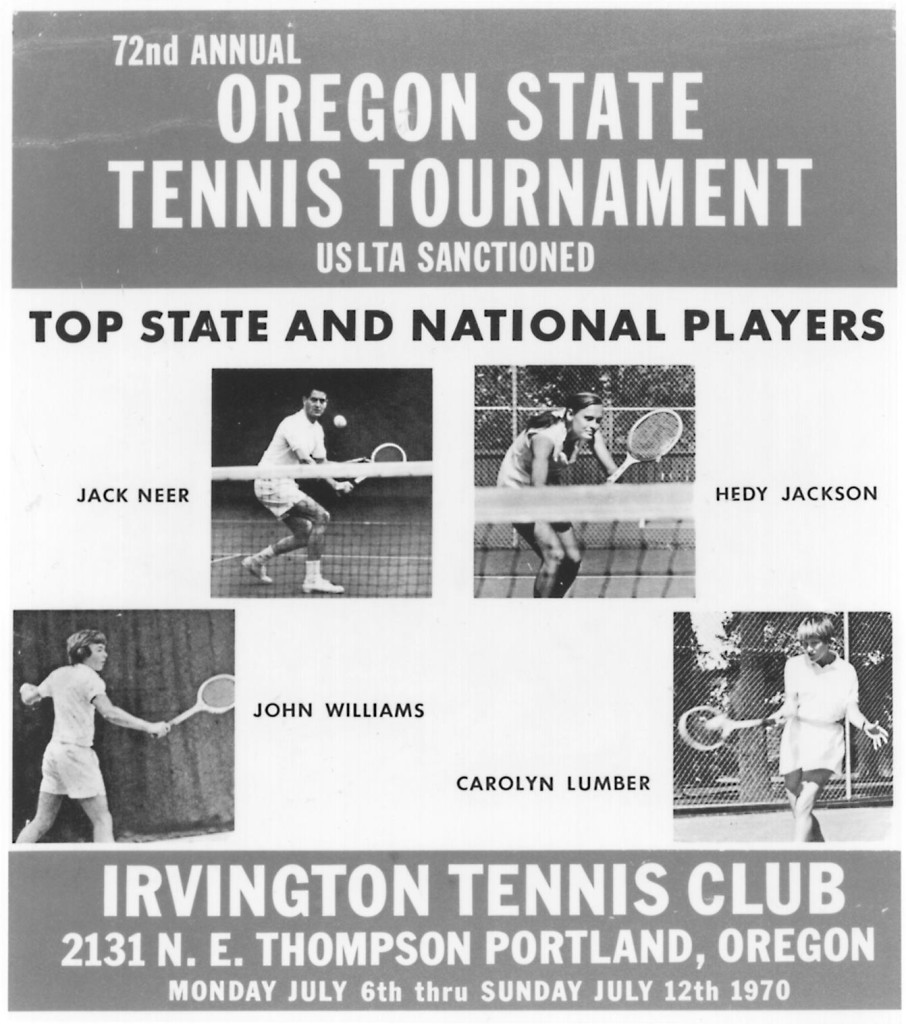 The first Oregon State singles trophy was presented by major E.R. Fisk, then commander of the Department of Columbia Engineers.
In the next year, 1900, women's events were added to the Oregon State Tennis Championships.
In the early years of the men's singles, the defending champion did not have to play in the tournament the next year. The winner was the challenger, who then played the defending champion for the championship.
In 1908, the Irvington Club had completed its six courts and clubhouse, so the Oregon State tournament was played at the Irvington Club.
Thereafter, to about 1928, the Oregon State tournament alternated between the Multnomah Club and the Irvington Club, except that records indicate that the tournament was played at the Waverly Club in 1916, and at Laurelhurst in 1919.
The Oregon State tournament included two California players who became world famous – Hazel Hotchkiss Wightman played in 1908 and Bill Johnston in 1912.
Walter Goss retired the Fisk trophy in 1918 when he won the Oregon State singles for the third time. This historic Fisk trophy is presently in the Irvington Club trophy case.
In 1927, the first Oregon State Junior Championships were held as part of the Oregon State tournament.
The Oregon State tournament continued annually at the Irvington Club thru 1989. As more senior and junior events were added to the tournament, it became to large for the Irvington Club. In 1970, the junior events were moved to the Portland Tennis Center for several years, and then to the Tualatin Hills courts. Senior events were moved eventually to the Eastmoreland Club. In 1990, men's and women's events were moved to the Tualatin Hills courts.
Editor's note: In recent years the Oregon State Tournament has been renamed to the Nike Tennis Championships of Oregon.
Men's Champions
Women's Champions
Document Source: Sam Lee, 1995
| | |
| --- | --- |
| Related Articles | Document Archive |
| Oregon Championships USTA/PNW Guide, 1909 | Scrapbooks |
| Oregon State Championship USTA/PNW Guide, 1910 | Brochures |
| Oregon State Championship USTA/PNW Guide, 1913 | Photos |
| Oregon State Championship USTA/PNW Guide, 1914 | Fisk trophy |
| A Grand Tournament This Week Newspaper Harold Parrott, July, 1983 | |
| History of Oregon State Tournament, Profile, Sam Lee, 1995 | |
| The Oregon State Tournament, The Club That Roared, Book, 1998 | |