The first Pacific Coast Indoor Tournament was held in 1971 at the Irvington Club. It was initiated by local promoter's Emery Neale and Brian Parrott who wanted to expand the scope of the existing Oregon State Indoor Tournament which was held at the Irvington Club. The intent was to bring in some of the best college players and pit them against some of the older well known professionals and also the best local players.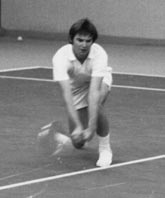 The first year Jimmy Connors, a freshman at UCLA played in the tournament. Several years later, 14 year old Tracy Austin won the tournament which spring boarded her on her pro career.
In 1978, the PCI became the Louisiana Pacific Coast Invitational and alternated several years between the Irvington Club and the Eastmoreland Racquet Club. In 1978, the tournament offered $15,000 in prize money.
In later years, the tournament was moved to the Chiles Center at the University of Portland. While at the Chiles Center, the tournament was won by Boris Becker who several months later won the Wimbledon men's singles championships.
Document Source: Historical Committee, 7/2004
| | |
| --- | --- |
| Prominent Men | Prominent Women |
| Jeff Austin | Julie Anthony |
| Boris Becker | Tracy Austin |
| Jeff Borrowiak | Janet Metcalf |
| Jimmy Connors | Terry Holladay |
| Mark Cox | Marita Redondo |
| Steve Docherty | Mona Schallou |
| Mike Estep | Jane Stratton |
| Jaime Fillol | |
| Peter Flemming | Tournament Sponsors |
| Allen Fox | Ben Franklin S&L |
| Brad Gilbert | Evans Products |
| Pancho Gonzales | Louisiana Pacific |
| Tom Gorman | |
| Brian Gottfried | Article |
| Dick Knight | Boris Becker Wins PCI Tournament, Brian Parrott |
| Ille Nastase | |
| Emery Neale | |
| Jack Neer | |
| Jim Osborne | |
| Brian Parrott | |
| Dennis Ralston | |
| Pancho Segura | |
| Harold Solomon | |
| Fred Stolle | |
| Sherwood Stewart | |
| Roscoe Tanner | |