Over a period of time, Portland's tennis community has been supportive of public tennis in Portland. In various years, some of the better players have enlisted in summer programs to teach tennis to boys and girls in the parks.
In 1971, because of the large growth in public tennis, the Portland Tennis Center Association (PTCA) was formed to assist the Portland Park Bureau. The Association became directly responsible for the Summer instruction program held on the Buckman Park courts, and also for conducting the Summer park tournaments.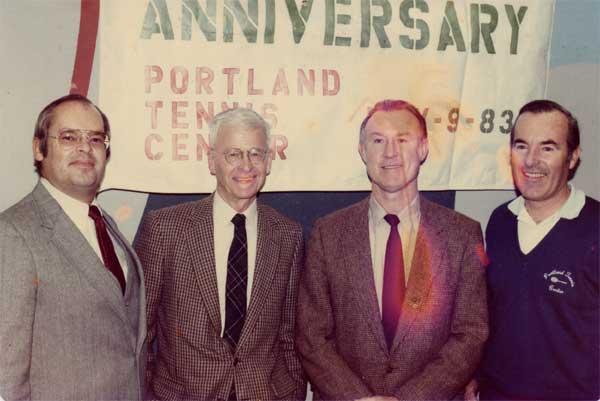 From 1971 through 1977, PTCA officers were Sam Lee, President, Pat Carr, Vice president, Jim Flynn, Executive Secretary and Doug Donaca, Treasurer. See picture.
In 1978, Michael Walsh became President, followed by John LaPlante.
The annual Summer instruction program expanded to 2000 participants with up to 20 instructors, all selected and hired by the Association.
In 1971, indoor tennis was available in several Portland clubs, and it became obvious that public indoor courts were needed. A plan was developed to build four indoor courts in the park area adjacent to the Buckman courts. The plan received enthusiastic support from City Commisioner Frank Ivancie and Parks Director Dale Christiansen.
After exploring various ways to finance the indoor courts, the decision was made to finance by issuing municipal revenue bonds, after a feasibility study. The total cost was approximately $335,000, and construction was completed in November 1973. It is believed to be the only public indoor tennis facility in the country financed by municipal revenue bonds retired in 1995.
In addition to the regular parks tournaments, the Association conducted for a number of years the Oregon State Junior Championships. After that, it conducted the Rose Festival Junior Tournament.
When Jim Flynn was hired by the Portland Park Bureau to be the tennis director in 1981, the tennis instruction and tournament functions of the Association reverted to the Park Bureau.
Document Archive
Tennis – A game for all seasons – swingers want cover to Portland tennis – Sam Lee
Covered tennis courts – Buckman Park, Park & Recreation Newsletter, 1972
Miscellaneous business documents
 Document Source: Sam Lee, 1995