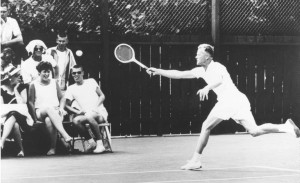 After a prestigious youth career, reaching #7 in the U.S. (15 and under), Sam won the 1933 NCAA Doubles Championship for Stanford University as a sophomore.
He is an Oregon State singles champion (1937) and seven times doubles champion. Sam was a regular in the top Pacific Northwest doubles rankings with partners Emery Neale, Henry Neer or Claude Hockley.
In 1942, Sam was called to service in Europe. With tennis players scattered around the world due to war, in 1945 event organizers created a Military Wimbledon – providing Sam his first chance to play at Wimbledon. In 1947 and 1948, Sam and partner Emery Neale represented the U.S. at the Wimbledon Seniors Tournament.
In a 1950 Oregon Journal newspaper poll, Sam was voted the Top Male Tennis Player in the Pacific Northwest.
He served as a PNWTA Vice President from 1946-1958, the Irvington Club President from 1957-58 and a Multnomah Athletic Club President.
He is a co-founder of the Northwest Portland Rotary Club.
Sam was instrumental in promoting and spearheading the construction of the Portland Tennis Center in the early 1970's.
He was inducted into the Oregon Sports Hall of Fame in 1987.
Honors
Charter member of the USTA/PNW Hall of Fame
Member of the Oregon Sports Hall of Fame
Honorary member of the Irvington Club
Framed pictures of Sam on display at the Irvington Club, the Multnomah Athletic Club and the Oregon Sports Hall of Fame
Related article
Tennis is his racket, Senior Tribune, 1988
Document Source: USPTA/PNW Hall of Fame, October, 2000